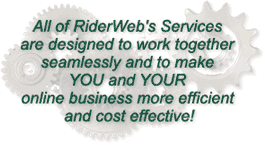 How can we help YOU?
RiderWeb is an integrated web services provider for businesses or organizations. From custom graphics to secure web hosting, or from small informational sites to large database driven B2C/B2B sites, RiderWeb's services span the realm of today's internet technologies.
Do you want an appealing web site?
RiderWeb has in-house, seasoned artists to develop the personal look and feel of your web site. Whether you already have a corporate image or are offering a unique product, we enjoy creating a web presence that has a personalized touch.
Do you need sophisticated internet technologies?
RiderWeb employs programmers that have developed or found cost effective applications that will fit your institution's needs. Examples of the technologies that we develop for or offer to our clients:
Not sure what you need?
No problem, because we bring timely experience to your internet endeavor. Founded in 1995, we have worked with many clients for a variety of needs. As a RiderWeb client, you will be able to leverage this experience even if you are not exactly sure of your web needs.
Join RiderWeb, we provide solutions for today and tomorrow!